Unify all of your payments with one, integrated solution.
With so many payment methods, unique supplier requirements, and discount opportunities, organizations often struggle to gain control and visibility into their B2B payment program.
Optimize your working capital while mitigating the risk of payment fraud with robust, intelligent payments technology built for efficiency with ActiveWorx Payment Automation. Who To Pay
Know who will receive your payment and view all ready-to-pay transactions on a single platform. How To Pay
Pay suppliers in an optimized method, while automating the creation and delivery of rich remittance details. When To Pay
Strengthen supplier relationships while tightly managing your cash flow by matching the payment of suppliers to efficient, electronic methods and capturing more early pay discounts and rebates.
Payment Optimization
Invoices are approved to be paid and the payments are batched into payment modes based on your business rules. The payment batch is approved, scheduled, and transmitted to the payment processors.
Payment Method & Partners
From Bank to Ours: For ACH and wire payments, ActiveWorx will process payments directly to the supplier. 
Card Payments: Our partner, Comdata, generates Mastercard virtual card payments in the most optimal method accepted by the supplier to facilitate payment. 
Check, Print, and Mail: When required, our printing partners print and mail checks.
International: International ACH and wire payments will process through Cambridge Global Payments in the currency your supplier requires.
Payment Funding Confirmation
All ActiveWorx payments are funded directly from client funding accounts. We will typically pull funds from a pre-authorized account depending on the payment method used.
Payment Delivery
Payments are delivered by ACH, check, wire, or virtual card. VCard payments can be delivered via email or other virtual card delivery options such as partner portal presentment or US mail. Remittance information for all types is sent to each vendor by email.
Payment Processing
The payee processes the payment and receives the funds. The payer receives the confirmation of the payment integrated into the ActiveWorx AP Automation Audit Trail.
Reconciliation
Transaction status data is continually routed back to the AP system for appropriate client accounting record reconciliation.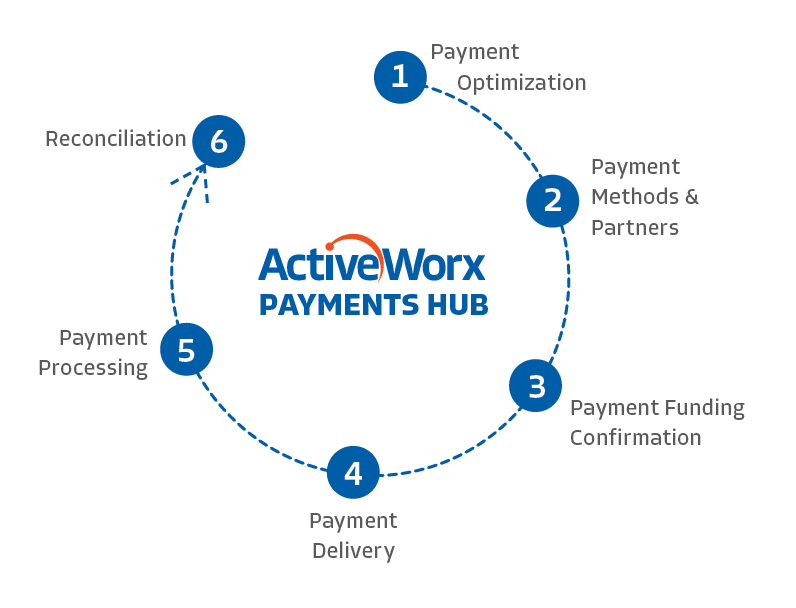 Processing B2B payments is complex and costly. Many organizations receive high volumes of invoices each month against thousands of different suppliers, each with preferred or limited methods of receiving payment.
Without clear visibility into payments and the flexibility to choose how and when payments occur, organizations risk high processing costs in the form of increased expenses and foregone savings.
Support global growth with multi-country and multi-currency payments
Eliminate manual tasks with automated real-time payment reconciliation
Deliver value through cash-back rebates and discounts
Mitigate the risk of fraud with built-in controls
Improve cash forecasting with 100% visibility
Streamline operations with a single solution for managing and making any payment
Contact An Expert
Contact us about your business process automation needs or to schedule a demo.